Paper II. Sec. C, 3.7
Initiation from British politics by the then PM John Major (22 July 1991).
Here, public office publishes their services, their description, and their cost, time and officials responsible.
In Nepali, Public Service Charter is called नागरिक बडापत्र.
Objectives
to let the public know about the services making it public friendly, and easy delivery of the services
for right to information, communication, accountability and transparency,
for developing the trust of public service provider in the public,
to shorten the work duration to the public,
for promoting good governance,
Principles
Public Interest
Maintaining Standards
Information
Accountability
Courtesy and Helpfulness
Neutrality
Quality Of Service
Non-discrimination
Affordability
In Nepal
Citizen Charter introduced in Nepal 2056 BS, implementation in 2061 BS.
Good Governance Act 2064 BS
Right to information Act 2064 BS
Citizen Charter with Compensation Management Directive 2069 BS
LIST OF CITIZEN CHARTERS OF MINISTRIES IN NEPAL (LINK)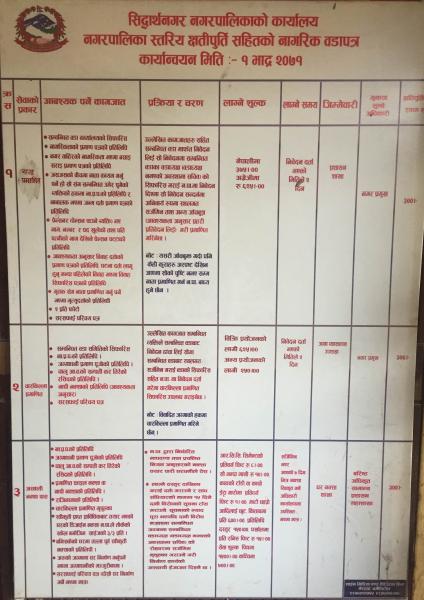 An Example of Citizen Charter
Helpful Resource